HackTCNJ, a 24 hour hackathon for students to conceptualize, create and present innovative programs, video games or applications, ran from 11 a.m. on Saturday, Feb. 28 to 2 p.m. Sunday, March 1 in the Education building. Hacking started at 12 p.m. Saturday and ended at 12 p.m. Sunday, giving over 100 attendees 24 hours to come up with an original idea, learn a new program or overcome any obstacles thrown their way.
The College's Association for Computing Machinery (ACM), which includes iPics' own Nadya Pena, the president of ACM and a senior computer science major, and Brandon Gottlob, the vice president of ACM and a junior computer science major, ran the event. As lead organizers, they could not participate, but plenty of other iPics students attended. Some iPics students, such as Alyssa Springstead, a freshmen applied mathematics major, used the experience to learn more about how to program, whereas others, like Matthew Filippone, a freshmen computer science major, created a program and presented it before the judges and fellow hackers.
As newcomers to HackTCNJ, Springstead and Filippone shared their experiences.
What was it like to participate in HackTCNJ for the first time?
Springstead: I didn't actually work on a project because I don't have enough knowledge to create something on my own, and since it was my first hackathon I really just wanted to take in the experience and see what it was all about. Going into it, I had no idea what to expect and was a bit anxious to be honest, but it was really amazing to me to see so many people who had such innovative ideas bring those ideas to life in only 24 hours.
Filippone: It was an amazing experience. HackTCNJ was my first Hackathon so I did not know what to expect at first. I learned so much in one night while also having fun with all of the other hackers. I would definitely recommend going to HackTCNJ. It was an experience that I will never forget.
What was your project?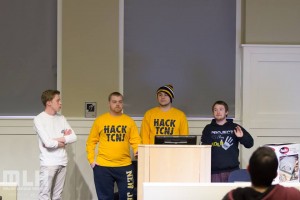 Filippone: My project was an application called Café Queue. This application allows TCNJ students to order drinks and food from the Library Café on their phones or computer. After a student places their order, they will be able to pick it up at the café. This will eliminate the long lines in the café because the student can order from there phone and go to the cafe when it is ready.
What was the biggest challenge?
Springstead: I'm just taking my first intro to computer science class this semester, so I have very little knowledge about programming.
Filippone: The biggest challenge was actually programming our project within the time given. Throughout the development of Café Queue, we hit many roadblocks. In fact, at 4 a.m. we had to start some of the project completely over because the way we designed wouldn't allow certain features that were essential to the application. By that point in the night, we only had about eight hours left so we had to scrap some of the nonessential features. On top of the time restriction, staying up for the full 24 hours takes a toll on your mind, which slows down the development process.
Did you win or get recognition from the judges?
Filippone: Café Queue got a shout-out for the Best Design category.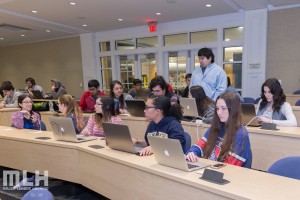 What did you get out of the experience?
Springstead: People can create amazing things with a computer in 24 hours. With more experience, I hope to be able to participate more fully in future hackathons.
Filippone: HackTCNJ taught me a lot about working with a group of people. It helped me understand how to effectively work as a group. I also learned a lot from my peers. Overall, it was an excellent learning experience. HackTCNJ has made me a more knowledgeable programmer.